The goal of the course is to train a student pilot up to the level required to obtain a PPL. The holder of a PPL may fly as commander or co-pilot, without compensation, any San Marino-registered aircraft on nonprofit flights over the territory of the Republic of San Marino, and the Republic of Italy, as well as in the airspace of other ICAO member states provided he/she holds an English radiotelephony certificate.
Piloting Aircraft Registered in Italy or other European Community Member State requires an endorsement with the Authority of the State of registration or holding an EASA license.
Prerequisites
PPL applicants must have:
17 years of age or older,
Possess a valid 1st or 2nd class medical certificate.
meet the requirements for the class rating of at least the aircraft used for the examination.
Examination
For the attainment of the PPL, the student must apply to the San Marino Civil Aviation which will subject him/her to a theoretical examination on the subjects in the program through multiple choice quizzes (pass mark 75%), and a practical examination.
Aircraft
The Aircraft used for the achievement of the Private Aircraft Pilot license is the Cessna 152.
Price
The cost of the theoretical-practical course, including 116 hours of theoretical lessons and 45 hours of flight time in the Cessna 152, is about €9500.
Duration
The theoretical course lasts four months; the practical part varies depending on the student's availability and weather conditions.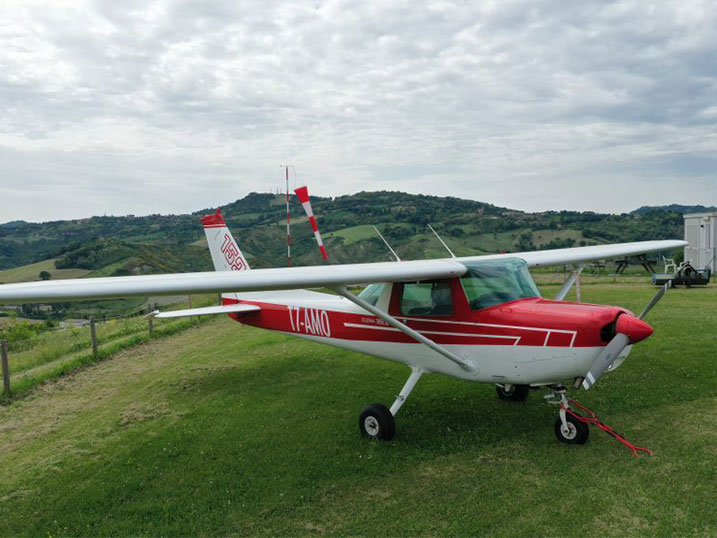 THEORETICAL PROGRAM
The Theoretical program for obtaining the Private Aircraft Pilot License includes 116 hours of theoretical classes in addition to a series of Briefings associated with practical training. The subjects covered are as follows:
AVIATION LAW AND THE RULES OF THE AIR
Definitions and Applicability
General rules
Visual flight rules
Signals
Interception of civil aircraft

AIR TRAFFIC SERVICES
Definitions
Objectives of air traffic services
Airspace Classification
Flight information regions, control zones, and control areas
Air traffic control service
Flight Information Service
Alarm service
Visual flight weather conditions VMC and instrumental IMC
Airport data
Conditions of the movement area at its infrastructure
Visual aids for navigation
Indicators and signaling devices
Signs , lights, symbols, ground signs, signal area
Obstacle Warning Lights
Signaling of obstacles and their illumination
Light signage of restricted areas
Ground emergencies
Fire service
Apron Service
Colors of ground lights and road markings
AIR RULES AND AIR TRAFFIC SERVICES
Definitions
Operation of ATS services
Flight plan
Traffic flow control
Height adjustment
Wake turbulence
Weather information
In-flight weather reports
Area control service
Separation of controlled trades
Responsibilities of pilots in providing for their own separation in VMCs
Emergency communications and radio failure procedures.
Approach control service
VMC arrival and departure procedures
Aerodrome control service
Function of airfield control tower
VFR Operations
Procedures in traffic circuits
The information to aircraft
Airfield traffic control
Purposes and operating principles of the Information, Alert and Advisory services
GENERAL KNOWLEDGE OF THE AIRCRAFT
The structure of the aircraft
The load of the structure
The stress limits to which the aircraft structure can be subjected
Propulsion
Engines
Engine cooling
Engine lubrication
Ignition systems
Carburetion
Fuels in use
Power system
The propellers
Engine maintenance
Systems: Electric and Vacum
Flight instruments
Static and pitot system
Anemometer
Altimeter
Variometer
The Gyroscope
Virosbandometer
Artificial Horizon
Directional
Magnetic compass
Engine tools
Other tools
Airworthiness of Aircraft
PERFORMANCE AND FLIGHT PLANNING
Weight and centering
The performance of Takeoff, Landing and Cruise.
HUMAN FACTOR AND LIMITATIONS
Physiology
METEOROLOGY
The atmosphere
Pressure, density and temperature
Humidity and precipitation
Pressure and wind
Cloud formation
Fog, mist and haze
Fronts
Air masses
Ice formation
Thunderstorms
Flight in mountainous areas
Thermal convection
Instability
Altimetry
The weather organization
Weather analysis and forecasting
Weather information for flight planning
Aeronautical Weather Diffusions
AIR NAVIGATION
The shape of the earth
Card construction
Lambert's map (table of ICAO 1,500,000)
The directions (compass rose, Lossodromy and orthodromy)
Earth's magnetism
Distances
Charts in practical navigation
Map reading and flight planning
The Regulus Calculator
The timetable
Flight planning
Practical navigation
Radionavigation
The VDF
The NDB use of the ADF and de RMI
The VOR DME
Hints at GPS, ILS, INS and MLS
Primary and Secondary RADARs
OPERATING PROCEDURES
Aircraft Operations
Search and rescue
Aircraft accident investigations
Noise reduction procedures
Violation of aviation regulations
THE PRINCIPLES OF FLIGHT
The atmosphere
Airflow around a body
Airflow about a two-dimensional profile
Three-dimensional flow around a profile
Distribution of the four forces
Flight commands
Use of trim
Flaps and Slats
The standoff
Vine prevention and remittance
Stability
Load factor and maneuvering
Stresses to the ground structure
COMMUNICATIONS
Radiotelephony and communications
Departure, en-route, arrival and traffic circuit procedures
Radio failure
Emergency and Urgency Messages
FLIGHT SAFETY
Aircraft
Operations
PRACTICAL PROGRAM
Flight instruction in aircraft must include at least 45 hours of flight time, of which at least 25 hours must be dual pilot and at least 10 hours pilot-only with instructor supervision, including at least 5 hours of pilot-only navigation.
The course involves the completion of 21 flying exercises, which are:
Exercise 1 Familiarization with the Aircraft
Exercise 2 Ground Emergency Instructions
Exercise 3 Aircraft Preparation and Operations at the End of the Flight
Exercise 4 Effects Commands
Exercise 5 Taxiing Emergencies
Exercise 6 Uniform level flight
Exercise 7 Ascent
Exercise 8 Descent
Exercise 9 Tacks
Exercise 10 Slow Flight , Stall,
Exercise 11 Vine Prevention, Emergencies
Exercise 12 Takeoff and downwind entry
Exercise 13 Traffic Circuit – Landing
Exercise 14 First Solo Flight
Exercise 15 Accentuated turns, and turns in Ascent and Descent.
Exercise 16 Emergency Landing Without Power
Exercise 17 Precautionary landing Out-of-bounds
Exercise 18 Navigation
Exercise 19 Navigating at low altitude and low visibility
Exercise 20 Radionavigation
Exercise 21 Basic Instrumental.